We've listened to families interested in joining OC Online and understand the challenge of moving from "interest" to "enrollment" to "first day of school."   
Let's see if we can help! 
How do I apply?  When will I know if I've been accepted?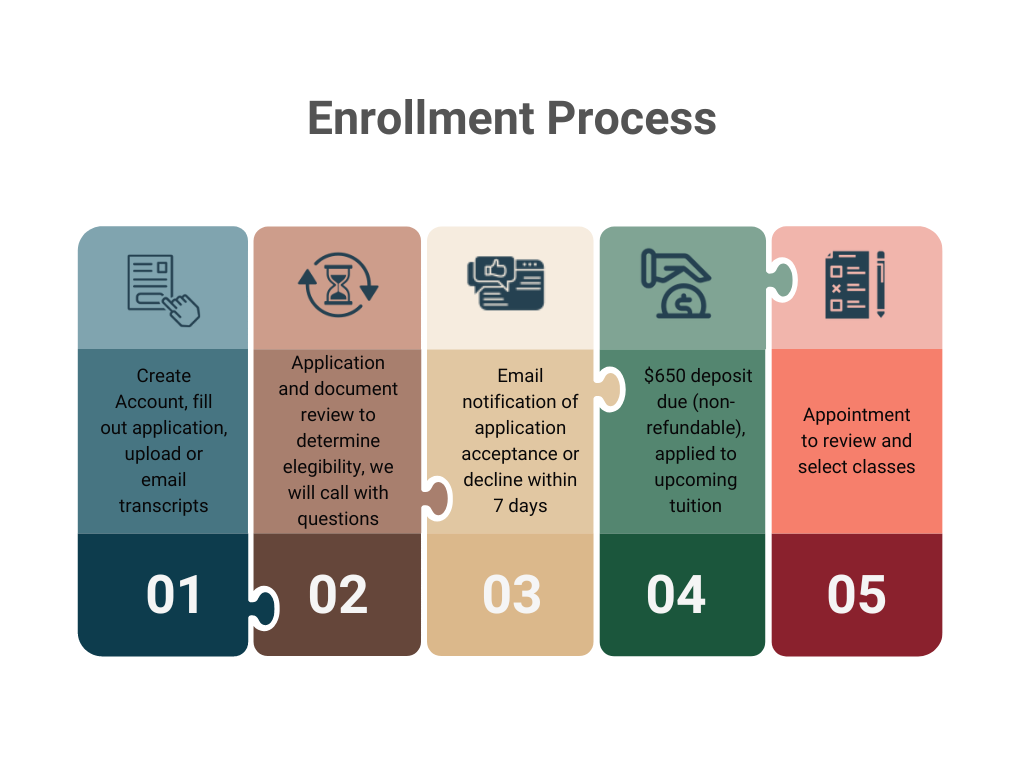 What happens after class selection? 
A few things remain that occur between class selection and when classes begin.  Depending on how early you enroll, this impacts the amount of time between the two events. You receive and sign a contract confirming your seat in the class and giving you access to the student handbook, then tuition payments / arrangements need to be made. More about tuition can be found here.   
You receive a confirmation email (be sure to keep contact information updated!) letting you know when you can log into the online class portal, view the dashboard where you will see links to all classes the student has enrolled in, where they can start to view teacher information, access materials, see live class times, and all things related to class content.  
During the first week of classes, students receive access to syllabi, expectations, and course content. 
After class starts, what is a typical week like?  
Students will be "going to class" in two primary ways. 
Live Classes: Student's virtual live classes are weekly, 30-minute, interactive instruction with the teacher and other students. Consistent class times are set by the teacher at the beginning of the semester and posted on the homepage.  Live classes are recorded, so if a student has to miss the live class, they can watch the recording. If students have questions, they can review the recording, send their teacher an email or schedule a video conference appointment with them.   
Course Instruction: Students can expect 4-6 hours of independent coursework each week.  This includes content where students are learning through reading, video instruction, self-guided practice and reflection activities, as well as assignments and assessments where students are submitting work, discussing ideas with classmates, taking exams or quizzes, and completing projects, etc. All assignments are due on Friday by midnight.  Students and families appreciate that this allows them to schedule their week in a way that works best for them, while keeping them motivated to be on track to have weekends free.   
Is there anything to prepare my student for what OC Online is like? 
If a student enrolls before July 1, they will be guaranteed a spot in our light and fun summer orientation course that prepares them for the fall. Think of it as the "campus tour" for an online school. 
"Ramp Up" is our orientation course that provides a great way for new students to get to know the OC Online program.  This brief course introduces students to our systems and prepares them for their fall online classes with lots of support and minimal stress or expectations.  Short assignments and discussions outline what to expect and provide quality practice for submitting assignments, using online etiquette, and communicating with teachers.  
Summer Ramp Up is approximately a 2-week course (equivalent to about 2-4 hours total).  It's a practical introduction to what students can expect and helps reduce anxiety and build confidence for when it's time to begin in the fall or spring!  
When do classes begin? 
Classes begin for the upcoming school year (Fall 2023) mid-August.  To see more, including holidays and breaks, access the current academic calendar here. 
What if I still have questions or just want to talk with someone? 
We are here to help!  You can email us by contacting online@oakschristian.org.  We are available to meet for a phone call or a video conferencing call. Please include the best way to reach you in your email.