Like most Christians, the incarnation is strongly on our minds all year, but especially at Christmastime. In this miraculous historical event God steps down into the human story and body as a person, as Immanuel, "God with us" (Matt. 1:23). Even more strikingly, God "moves into the neighborhood" (John 1:14, MSG) as a baby born to a young girl, who risked her future marriage, social standing, and economic stability on the word of an angel.
It's a great story.
It's also a great model.
Paul and the early Christians (parts of this were a hymn in the early church) picks up on this and says:
"In your relationships with one another, have the same mindset as Christ Jesus, who, being in very nature God, did not consider equality with God something to be used to his own advantage; rather, he made himself nothing by taking the very nature of a servant, being made in human likeness."
In other words, while The Incarnation, is a singular cosmic event where Christ lays aside power as God to serve as a human, living incarnationally is something we're invited to replicate in response to this act of generosity. We can take on "an incarnational mindset" in our relationships. We too in our own small ways can set aside the things we could use for our own advantage and choose servanthood instead. Mindset is the word used here, but this isn't purely ideological. Out of love, Christ relocated; Christ took on a new zip code.
It's interesting to think about how many seasoned Christian educators who moved from teaching and administrating in brick-and-mortar settings can relate to this. Not necessarily because it was such a grand sacrifice to move online but because it meant that we needed to occupy space and time in a totally new way. Following the breadcrumbs to love a new population and generation of students meant, for many of us, stepping out of geo-physical rooms and into unfamiliar digital spaces.
As we celebrate our twelfth Christmas as an online program, we're still looking for new ways to both practice incarnation and, most of all, to hold reverence and honor for THE incarnation. We've sent families and faculty advent devotionals. We've hosted combined middle school and high school online Christmas parties with fighter pilot angels and hillbilly shepherds. We've exchanged Secret Jesus gifts (sorry Santa) and hosted online hot chocolate parties and sang Christmas carols. It's a wonder to see what these things can look like and be in this landscape.
It really is a gift.
This year we're sharing a staff photo of us all eating snack boxes together from a small shop in South Carolina that seeks to love Jesus and love neighbors through the ways they source their products. They graciously snail mailed us these packages to our team who live in seven different states across the US.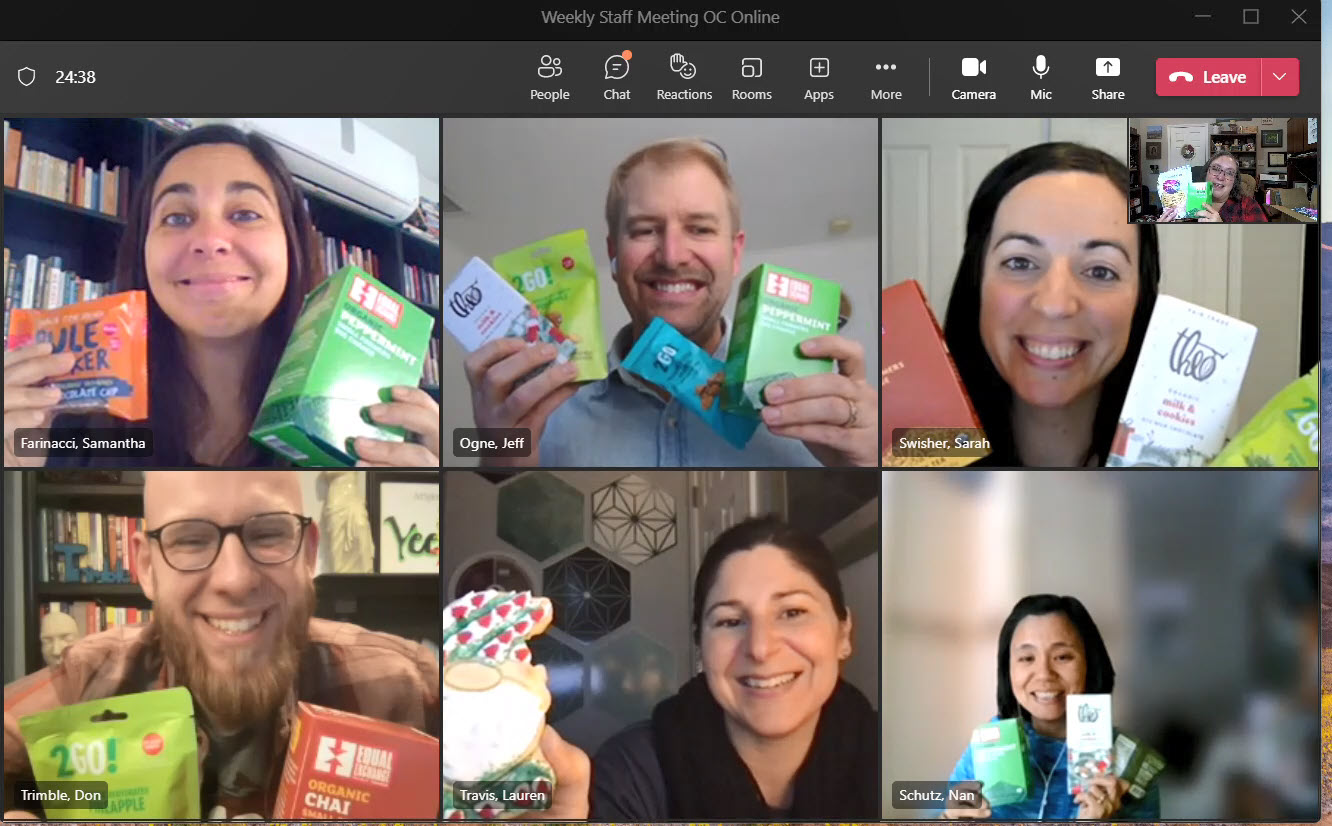 After this party, we'll head back to our local lives to celebrate Christmas with our families and friends. To that end, our office is closed December 19-23 and December 29-January 3rd. Faculty and staff return January 4 and classes begin for students on January 5th.
"And the Word became flesh, and dwelt among us; and we saw His glory, glory as of the only Son from the Father, full of grace and truth." John 1:14 NASB
Merry Christmas from the Oaks Christian Online Administration, Staff, and Faculty!