During the pandemic many families, educational programs, and schools made a sudden and desperate conversion to bring K-12 completely online. Their efforts deserve our highest appreciation and respect because what they attempted to do was nearly impossible, and yet still so many fought and sacrificed to bring education to students in this format anyway.
Unfortunately, the immensity of the circumstances has left many families, students, and schools saying for the first time, "I know what online education is, and I hate it."
Now the raw honesty of this perspective is important because a fully online education is certainly not for every, or even most students. With that in mind, at OC Online we have a growing sense that what many people experienced during the pandemic is not "what online education is". As online educators that are in this for the long haul, we need to continue to clarify the difference between what we might call 'triage online learning' and 'intentional online learning'.
Or as others are putting it: emergency remote learning vs online learning. They are not the same thing.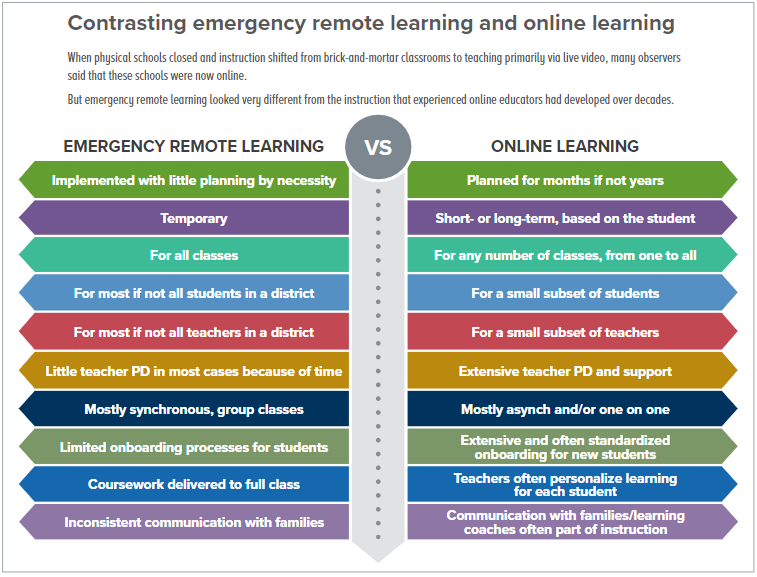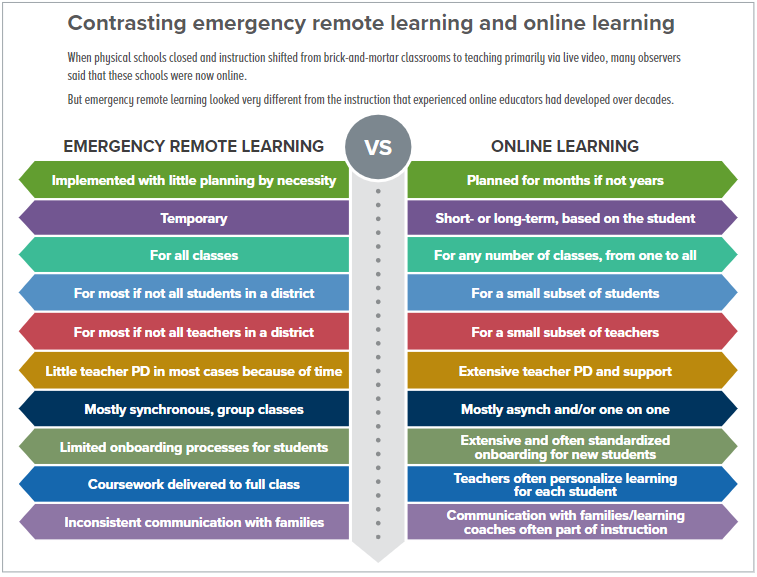 As a program that is in its eleventh year at the time of this blog, we at OC Online consider ourselves to be in the second column—representing a purposeful, rather than emergency online program. To talk through this, we had a chat with some of our administrative team, Lita-Director of Operations, Jeff-Dean of Students, and Lauren-Dean of Instruction, to explore these differences.
Jeff, Lauren, and Lita, looking at this list of differences between emergency remote learning and online learning, which do you think is the most striking and significant?
Jeff: The onboarding process is a big one. When the pandemic hit and schools had just days to pivot, it was nearly impossible to effectively train all students to switch to learning online. In an established online learning environment, like OC Online, the process of getting students set up and working in their classes has been refined over many years. Thus, the ability for a student to login and get started is much more efficient.
Lita: I really think the concept of the amount of planning required to do this well is underestimated. To put people, processes, and products in place that fully support a complete and effective online learning experience is impossible to do well quickly. Full courses and programs take a lot of resource investment (time and money) to build and implement and are still constantly being updated to improve the experience from onboarding, instruction, and support for students. One of the best analogies I've heard is that it's the difference between a lifeboat and a luxury cruise liner. Both will keep you dry, but the experience will be vastly different!
Lauren: Schools and teachers that moved to remote learning got very specific professional development and support as they attempted to make the big shift last year, but that is significantly different than the ongoing and specific to online teaching professional development our teachers engage in all year long. Teachers received emergency bootcamp training for a unique season of learning. While lots of vendors and publishers provided free resources, webinars, and support, they were tailored to the moment and did not have long-lasting impact on pedagogy in physical classrooms. Oftentimes, the training for remote learning simply focused on successfully navigating edtech solutions. It is one thing to learn how to use Zoom to host a class and another to learn best practices for live class engagement with synchronous and asynchronous attendees. We rely on the National Standards for Quality Online Learning to guide our professional development. Much of it includes learning how to connect with our students since that's a unique challenge in the remote environment. Our spiritual life theme at OC Online this year focuses on hospitality, a fascinating concept for our teachers to think through in a virtual learning space. We meet bi-weekly with our teachers in a virtual classroom for faculty meetings and host an online Faculty Lounge to walk teachers through day-to-day operation and provide professional development resources and training.
Jeff, as you talk with prospective full time student families and prospective school partners, what are a few of the strongest misconceptions people are having about online education due to their experience with emergency remote learning?
Many families have misconceptions about the amount of time students will spend in live, synchronous video conferences. During emergency remote learning students found themselves sitting in one spot for hours upon hours only 'moving' to their next class by switching to a new video conference room. OC Online implements online learning in a way that gives students the connection and quality of the occasional live video conference class with the scheduling flexibility of an asynchronous program. This balance of the two helps students break up their days while still taking advantage of quality instruction.
Lauren, how is instruction and content delivery different between emergency remote learning and online learning?
Teachers in remote learning had to translate their classroom reality into a virtual one every day, which looked like long zoom sessions, lots of lecturing, and figuring out how to host and collect assessments. It was exhausting work, and we heard about how unsustainable this is from colleagues trying to accomplish that task while also completing regular teaching tasks. Online programs frontload this process before students even start the semester, thinking through how to accomplish the same learning objectives and then building out that experience in advance in a learning management system or web-based classroom. Online programs tend to presume that students will be working more independently without constant supervision, so all the tools, resources, and support must be pre-built with less reliance on the instructor to deliver the content. The greater burden of the instruction comes through text, videos, simulations, and other engaging activities on the screen. Teachers then interact with students about that learning, providing just-in-time assistance, instructional feedback on assignments, and in our program, a weekly live class for interaction and connection.
Lita, how is technology used differently between emergency remote learning and online learning?
This question is difficult to answer succinctly because on one level, technology for both could be considered as all the same. You need course content, a way to access it, and devices to do the work and all must be present in both emergency remote instruction and high-quality online learning. But at the same time, the difference could not be more drastic. An effective online learning program thoughtfully and intentionally creates an infrastructure that supports the online learning experience seamlessly from beginning to end and considers security, course design, student experience, faculty and family support, academic instruction, professional development, ongoing maintenance and improvements, and so much more. Technology is the ecosystem within which every aspect of an online learning program exists and the care and effort that goes into the planning and implementation of this ecosystem should accurately reflect that level of importance, just as a physical campus must have all the required infrastructure (classrooms, transportation, community areas, playgrounds, cafeteria, space for extracurricular and meeting space – it's much more than just the classroom or curriculum) in place to support students throughout their entire school day.
Lauren, what do teachers need to understand about the difference between emergency remote learning and online learning?
We have had teachers apply for positions with our program who feel that the experience of remote teaching has given them online teaching experience, but we must dispel that myth. Many times, those teachers expect long virtual synchronous classes with students on screen. While some online programs are built that way, a few have some face-to-face time with students, but most are entirely asynchronous. For classroom teachers who love that full classroom environment, the independence of the students in the learning environment and the lack of daily interaction can take getting used to. We have had highly successful teachers with only physical campus classroom teaching experience that really enjoy the flexibility of our program, maximizing the time they do spend with our students in live classes. However, mental adjustment is required. It can be so rewarding to see students tackling their learning and exploring their coursework. Students can have more voice and experience more freedom in the online environment. Our students in Bible courses ask fantastic, and sometimes personal, questions because there is less social pressure they might feel in a classroom.
Jeff, Lita, and Lauren, what is something you think people who experienced emergency remote learning would be surprised to find here at OC Online, a grounded online learning program?
Jeff: OC Online has over 10 years of experience in online learning. Thus, the practices in place at OC Online have been adjusted and improved many times. Whereas those schools who went through emergency remote learning may have had a lot of educational experience, they did not have ample time to prepare to deliver this education online. As a result, the education provided through OC Online is of high quality and with a great track record.
Lita: There are many things about our program that set us apart, but the quality of our community and support are the two that come to mind first for me. We have learned how important relationships are at all levels for online learning to be effective and we invest heavily in building and nurturing those opportunities to really know and support our students as evidenced by their responses to a recent survey about how they felt provided and cared for by their teachers who they have never actually met in person. We are also passionate about constantly evaluating and improving our systems and processes to provide an experience from start to finish that allows faculty and students to focus on academic endeavors without the obstacle of confusing or frustrating technology.
Lauren: Our program makes tremendous and lasting connections with our students, and teachers routinely share those enriching, positive experiences. It certainly looks and feels different than a traditional school model, but it can be empowering for our students and families, as well as our teachers. Our students have the freedom to pursue their own interests and engage more fully in their own communities. The lessons from the pandemic were not all bad, and for some families, the freedom to determine their own schedule, but with support from our learning community made a significant difference. They might be families that had not considered homeschooling before and found in us an accredited, established program that took some of that burden of traditional homeschool off their shoulders. With our curriculum being built intentionally with the college preparatory goals of our physical campus and honors and AP courses, our students face academic challenges like other independent and private school students which proved attractive for some homeschool families. Our Theological Engagement goals mean that our students not only engage with Christian educators but thoughtful and intentionally evaluate how we look at our academic endeavors from a theological point of view which appealed to Christian families searching for a virtual option that supported that engagement and exploration.