Nickelodeon actress, Breanna Yde, may have graduated from the hit show, "School of Rock", but her real-life role as a student at the award-winning Oaks Christian Online School is even more inspiring! 
Yde reveals the challenge young artists face when prioritizing their careers and education. "The entertainment business doesn't have a set schedule, so I need flexibility in my schooling. I also want a quality education along with that flexibility."  
A student at Oaks Christian Online (OC Online) since the eighth grade, the actress credits the faculty and students for encouraging her to work hard and realize her big dreams, adding "Oaks Christian is the best online school I've worked with and has offered me both the challenge and the support I need to feel confidently prepared for the future." 
And the entertainment industry agrees, as veteran acting coaches and studio teachers recognize Oaks Christian Online as a leader in online education. "I have worked with more than a dozen online schools over the past fifteen years. None of them have been as rigorous or rewarding as Oaks Christian. It's refreshing to work with a program that expects excellence not just from their students, but from themselves." – Scott B. Plimpton, Studio Teacher 
Reflecting on her upcoming graduation in 2021, her dad said, "I want to thank all of you at Oaks a thousand times.  I am so happy with the education that Brea has received.  While she works an amazing amount of hours on her career, she still loves the school and loves learning.  She gets a great perspective on so many issues.   You have created an environment that allows her to love to learn.  And she has turned into an amazing young woman.  So much of this credit goes to…Oaks.  Thank you, thank you,  thank you." 
Breanna Yde's latest project, Netflix's "Malibu Rescue", is out now and her debut music was also released in 2020.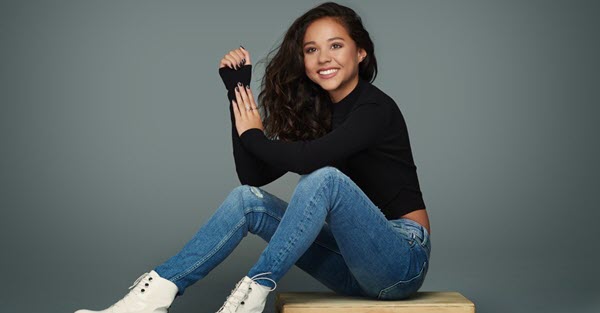 For more images or information on Oaks Christian Online, please contact Oaks Christian Online directly at 818-575-9299 or visit our website.    
About Breanna Yde 
Breanna Yde is a talented young actress best known for her role as Tomika in Nickelodeon's hit series, "School of Rock" and is currently starring as Gina in the Netflix movie and series "Malibu Rescue". She also voices Ronnie Anne on Nickelodeon's animated series, "The Loud House". Previously, Breanna starred as Frankie on "The Haunted Hathaways" (Nickelodeon). Her film credits include the Nickelodeon Movie for Television, "Santa Hunters", directed by Savage Steve Holland, and "The Dark Prophecy", directed by Anthony E. Zuiker.  Breanna is also a talented musician; she sings and plays both the piano and guitar.