There are so many wonderful people that are a part of the OC Online community! Take a moment to get to know Sarah who serves as an instructional designer. 
Hey Sarah!  What a blessing you have been to OC Online! Can you tell us a little bit about your position and role at OC Online? How long have you been with us and what do you enjoy most about your work here? 
Hi!  Thank you for the intro! My primary role at OC Online is as an instructional designer for our online courses. I take the content from our subject matter experts (SME) and build a new course or edit a pre-existing course inside our LMS (Canvas). I design the lesson pages by laying out text, images, and interactive components to use the newly acquired content. I also build out assignments, discussions, tests, and quizzes to assess student learning. 
Initially, I started teaching with OC Online in 2015 and then joined the team as Curriculum Admin Support in 2018. I found a great deal of joy in making updates to our courses and improving the experience for students.  No matter how small the edit was, I would say to myself "Now, this makes more sense!". Over time, with the encouragement of my boss, Lauren Travis (Dean of Instruction), I discovered that my passion really lies in creating a positive student learning experience. This ultimately led to my current role as an Instructional Designer (ID). I have found that there are so many ways to experience new content and as an instructional designer, I make countless decisions about how to aid students in meeting the learning objectives of a course.  
Not to mention, every course I design feels like a blessing because I get a brand-new opportunity to learn the content myself!   
Can you give an example of what a typical day or week is like for you? 
I truly enjoy my workday because each one can be so different in terms of what tasks I'm completing: it's always fresh and exciting! Part of my week is devoted to my role as a science teacher so that involves teaching live classes, grading student work, and communicating with students if they have any questions or need clarification. Sometimes, I am working alongside our operations support, Nan Schutz, to troubleshoot curriculum issues like accessing online platforms or updating any broken links or content questions. I might also be meeting with Lauren and new SME's as we map out future course builds and/or course improvements. Most often throughout the week, I immerse myself in my instructional design projects as I craft new lesson pages and build interactive elements. In any extra time, I am exploring new tools or programs to enhance the learning experience. This might include trying new ways to lay out content more intuitively or learning how to build different interactive activities to assess student comprehension. I appreciate that my job allows me to continually improve my skill set and learn new things, just as a student would. The beauty of online education is that it is continually changing; nothing is stagnant. There is always more to learn and additional ways to grow!  
Being honest here, there are a lot of things labeled 'online education' these days.  Much of what you oversee and create is about enhancing student learning in an online environment.  Can you explain how the things you build are instructional—especially for those of us who think of instruction as coming solely from a teacher? 
This is a great question and one that I take quite seriously in my job! Designing instruction in order to facilitate learning is really the primary goal of an ID. So much of my role includes putting myself in the students' shoes and asking myself "How will they experience this content?". This perspective helps guide how I design our lesson pages, how I carefully state the directions of any assessment, and what tools I utilize to aid in instruction. All of the elements must cohesively work together to help the learner meet the course and lesson objectives. As I design, I step into the minds of our students and imagine how they might experience this new content. What questions would they ask? What images would support their acquisition of new knowledge? Are the visual and verbal components effectively communicating the content?  An instructional designer must be very intentional about course design because we are essentially bringing the content to life!  
One of the things we love about our staff is that many of us also serve as teachers from time to time. This keeps us from becoming disconnected from the (online) classroom and from students. What are some courses you've taught at OC Online and how has teaching informed your work as a staff member? 
I spent many years in a traditional classroom setting teaching high school chemistry and decided to step away after my second child was born. I started tutoring in the OC Learning Center in 2015 and when I saw an opening for an online chemistry teacher, my heart jumped! This opportunity would allow me to return to a subject I love, while also staying home to care for our children. Along with chemistry, I have also taught Middle School Science, PE, and AP Environmental Science with OC Online. The ability to be both a teacher and a staff member has given me enormous insight into our program. Having close communication with our students and being able to experience the curriculum alongside them allows me to witness the areas where successful learning is taking place, but also to identify any places for improvement. My perspective is consistently student-centered and I, along with the rest of the OC Online team, always strive to create the best possible student experience.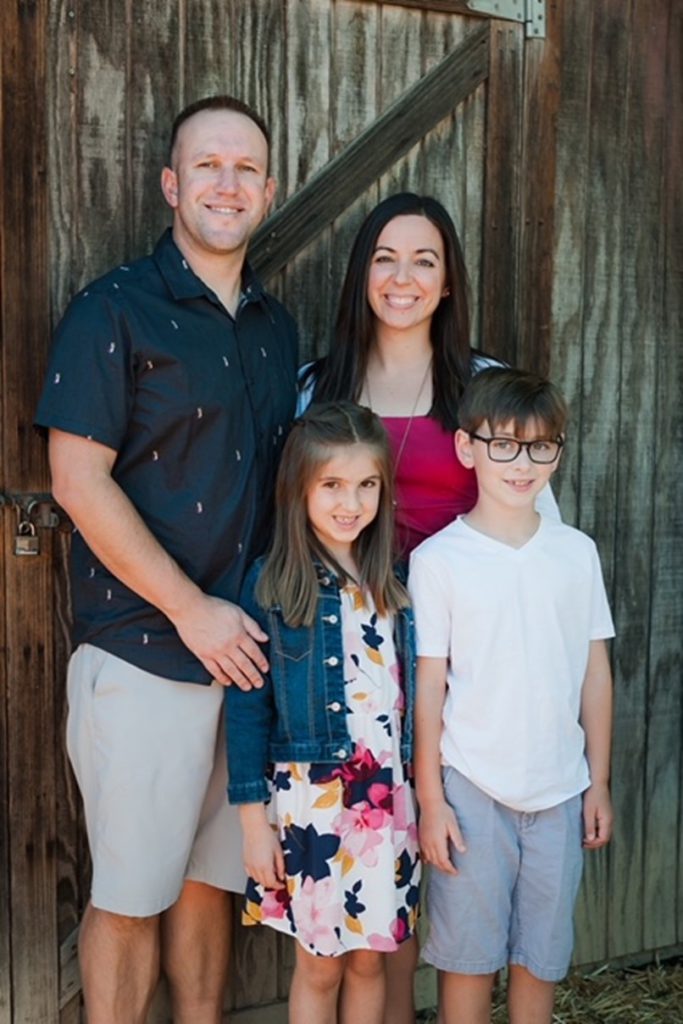 Finally, we'd love to hear a bit more about you as well; where are you from and what are some of the fun things we should know about you?
I was born and raised in Endicott, New York and studied Chemistry at Lafayette College in Pennsylvania. After I graduated, I traded in the snowy winters for infinite sunshine when I moved across the country and landed in Camarillo, CA. I met my wonderful husband here and have truly loved living on the west coast! I enjoy being outdoors with my two kids (age 7 and 9) and going to the beach, exploring new parks, hiking, and travelling. When I'm not working or with my family, my self-care includes baking, reading, and exercising.