Hey Don!  We are so excited that you could join our team here at OC Online!  Tell us about your experience teaching here and elsewhere.  And, what surprised you about your experience here at OC Online?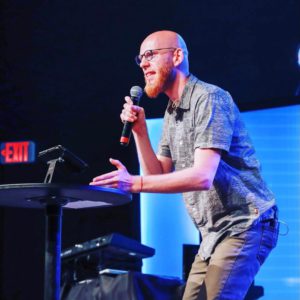 From the beginning of my educational career, I have been blessed to have had my work relate directly to my passions: Art theory and Jesus. Working with OC Online has been a continuation of this blessing. My first teaching placement was in my hometown at a school in Rural Nebraska that happened to be in a lower socioeconomic community with a majority-minority population. As an art and art history instructor it was heaven. I was able to teach about cultures from around the world while cultures from around the world were sitting in my classroom. Within a year I had launched and developed two courses dealing with art history. The courses took off. I ended up leading the largest activity at the high school: "Art Club" which had some 150 members. In the end, though, I realized that art theory was just the medium and the real message I was delivering is Jesus. A random Google search, and a couple of God winks later, our family was sent across the country to the big city of Los Angeles. Working on campus for 3 years at Oaks Christian School was a quick, yet God ordained experience. I taught AP Art History and various studio art courses while my wife was a coach for the cheer team. While we loved every moment of being on campus, God quickly sent us back to our hometown. I am now an Associate Pastor, and my wife is a K-12 principal at our local Christian school. This is the journey that led me right to Oaks Christian Online! 
What was your perception of online learning before OC Online and how has it shifted?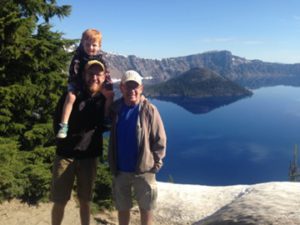 When I found out that my family was moving back home, I was excited to be able to keep my connection to Oaks Christian by teaching AP Art History for Oaks Christian Online. Honestly, though, I didn't know if I was going to enjoy the digital lifestyle. Being a huge believer in community, I had a hard time imagining I would be a good fit. My perception since last year has taken a complete 180, though. By the end of my first course with OC Online I had students asking me to write letters of recommendation for them, requesting virtual office hours for advice, and gifts were being exchanged across country via snail mail. I soon realized that connection had happened over the innerwebs. I now recognize OC Online's position at the forefront of innovating excellent online education that is accessible to students despite setting and scheduling complexities. The empowering autonomy that is allotted to students is what Oaks Christian is all about. It's trust with the continued expectation of excellence. 
What is the new role you are taking on with OC Online in addition to teaching?  What are you looking forward to about this new position? 
 Along with teaching art courses I will be serving as the Student Advisor as well as chipping in with instructional design work. I have already learned so much about the technical side of setting up the digital learning platforms we use through instructional design work. I love being able to apply my affinity for good aesthetic composition to the navigation experience for students. More than anything, though, I know I'm going to enjoy my direct interactions I have with students and parents as the Student Advisor for the program. Associate Dean of Students and Instruction Karri Iverson and Dean of Students Jeff Ogne have this down to a science. Making sure the involvement of all stakeholders along with instructors is smooth is not overlooked by either of them. I am glad I'll be able to step into the student experience realm and be a primary point of contact. Looking out for the best interests of the student and finding solutions throughout my career has been more rewarding than I can describe in text. I've reveled in every interaction with our community so far. I've learned people who desire excellence gravitate to excellent programs. The clientele for OC Online is unreal. 
As someone new to our program, what do you think other educators might like to know about OC Online? 
Teaching with OC Online has been entirely engaging and full of support. I often tell people that it's hard to fail with OC Online. After being with the online school for just a few weeks I have been particularly overwhelmed by how impressive the curriculum review process is. I thought it was just my AP Art History course that was fantastic. The online program is a juggernaut for curricular validity across the board because of the support that is provided to our educators. Student success is assured. It has been a blessing working with Dean of Instruction Lauren Travis and Instructional Designer Sarah Swisher as they seamlessly apply their understanding of curriculum design to the digital platform. I already know it will refine my own teaching. OC Online is spreading the rigorous excellence of an Oaks education worldwide regardless of student and teacher circumstance. Knowing that I can contribute my love for art theory from a cornfield in Iowa brings the realization that a student can also contribute from wherever they find themselves at in their educational trajectory. Assuring access to excellent education is not just for our students, it's for Mr. Trimble, too. I'm so glad to be able to be a part of a program that continues to assure excellence in an era that demands the innovation the online school provides. 
More personally, what do you enjoy doing in your free time?  And can you share with us a couple pictures of you doing what you love to do? J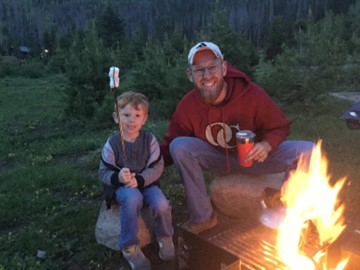 Along with telling everyone I can about my encounters with Jesus, I am on a perpetual quest for stellar art and graffiti from around the world. I am often camping along the way. Staying at every national park with my son is another goal of mine.