Samantha Farinacci, OC Online Chaplain, connected with one of our OC Online full-time middle school students, Kalea. This is Kalea's third year at OC Online. Middle School students have the opportunity to take all of their core academic subjects, J.I.M.S. (Jesus in Middle School), our Spiritual Life course for all middle school students, Independent P.E., Foreign Language, and one art elective. In this interview, Kalea shares her experiences in her art elective from the 18-19 school year, and the opportunity that resulted from it.
Hey Kalea, I heard that you took a photography course online at Oaks Christian last year. Tell me what the course was like.
KALEA: Hi! The photography course was challenging and very fun in many ways. My teacher, Mrs. Molitor, was so helpful! Whenever I was confused about an assignment or had any questions she was so quick to get back to me! My grandma also helped me because she has taken a lot of photography classes before!
What were some of your favorite photo projects for the class?
KALEA: I remember one assignment I had to do where I was assigned to learn about my hometown. I live in Santa Clarita, so on the weekend I learned about the history of my town and took so many photos. We visited Magic Mountain, William S. Hart Park, and our mall. This was one of my favorites! I also liked the project where I had to go take a bunch of pictures of animals. I went to my closest pet store and had my sister hold a bunch of animals. I also learned how hard it is to take pictures of animals!
How fun! What would you say is hard about taking pictures of animals?
KALEA: Animals are hard to take photos of because most animals are very active. They move around a lot and they can really do whatever they want. When you are talking a picture of an animal you have to have your camera ready for any moment because it could come at any time!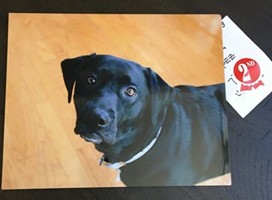 It sounds like you took one of your favorite projects and entered it in a contest? What was the contest and what made you interested in entering?
KALEA: I entered my photos into the Ventura County Fair. It all started a few years ago when my grandpa and grandma entered a few photos in the fair. When we went to see how they placed, I noticed there was a youth section and I thought it would be fun to enter too! Then I took this photography class and thought: this year I am going to enter!!
Which photo(s) did you enter? What made you pick those?
KALEA: I entered 9 photos in all. Some of the photos were of my dog, flowers, Christmas lights, and a picture of the moon. I picked these photos because I thought they looked the best and because they were some of my favorite photos that I have taken.
What was that experience like for you and did you receive any recognitions?
KALEA: This was awesome experience! I liked how I got to go to the fair and see how I placed. There were so many amazing pictures and talented photographers. I had so much fun. I will definitely enter more photos next year! All the photos I entered into the youth category placed. In all I received 4 First Place ribbons, 3 Second Place ribbons, and 2 Third Place ribbons. The best was that one of the First Place photos was also recognized for "Best in Class" for the nature category. I was shocked and even texted Mrs. Molitor on the way home from the fair to let her know!