Introduction: As educators, most of us have experienced the joy of having a student and then, later, having his or her sibling. At Oaks Online many of our teachers are having the chance to do this very thing with two of our current full-time student sisters, Emma (9th) and Mya (11th). On top of attending the same online program for high school, these two also dance together for the same ballet company and are, this Christmas, putting on The Nutcracker together. It will undoubtedly be a spectacular performance, and it was certainly enchanting to hear the two of them talk about it.
Hi there! We're so excited at OC Online to hear more about your upcoming performance of The Nutcracker! Can you tell us a bit first about your experience with ballet? How long have you been dancing and how did you get connected to the company you're dancing with now?
Emma: I first started dancing when I was seven years old. I loved my classes and I also loved watching the older levels dance. My first production with Pacific Festival Ballet was the Wizard of Oz in their summer program.
Mya: I also started ballet at seven years old and fell in love with it right away. I loved the music and the challenge of improving each class.
Have you danced The Nutcracker before? Which part(s) have you performed and which part do you have this year?
Emma: This is my 8th Nutcracker season; I was an Angel, Mouse, Petite Cotton Candy, Kitten, Party Girl, and now I am the Porcelain Doll.
Mya: I have been dancing in the Nutcracker since I was nine years old. My parts, in order, are Mouse, Soldier, Bat, Pierrot, Star, Lady Licorice and Snow Fairy. This year I am dancing my dream role, the Snow Queen, as well as Marzipan and a flower in Waltz of the Flowers.
What's your favorite scene, song, or dance in The Nutcracker and why?
Emma: My favorite scene is the Snow Scene! It is so energetic and has really beautiful music, costumes, dancing, and even snow falls in the theater and on stage.
Mya: My favorite scene in the Nutcracker is also the Snow Scene because I think it is the most magical part. Snow falls on stage and in the audience while many dancers are moving around very quickly! It looks like an actual blizzard!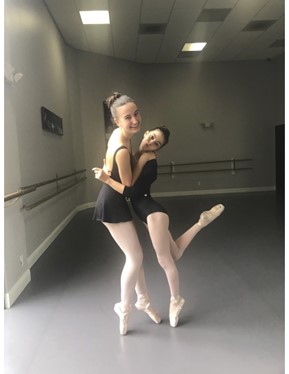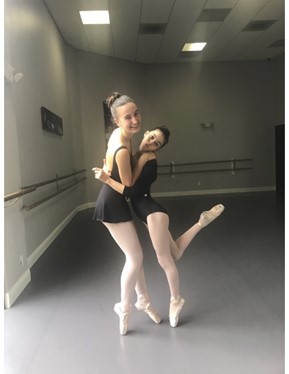 I know dancing for The Nutcracker is part of your community service. Can you explain how this ballet gives back to the community?
Emma: For as long as I have been with Pacific Festival Ballet we have held shows for Title One schools on Wednesday and Thursday mornings. These shows are exciting for the kids to watch, and it gives them the opportunity to see and experience live shows that they may not otherwise be able to go to
Mya: As a part of community service, I did a few promotional activities for the ballet. One of these was at the Moorpark Active Adult Center where I preformed Marzipan with a few friends. The people we performed for were so happy to see us, and it brought so much joy to see how happy they were. I also took pictures with younger children at the mall who also showed a similar joy to see a ballerina. By spreading the word of this magical ballet to others in the community, I could see the pure happiness the Nutcracker brought to all.
Wonderful. Finally, when and where is the ballet in case people who are local are able to attend?
Emma & Mya: Our company is performing the Nutcracker December 21st and 22nd at the Thousand Oaks Civic Arts Plaza at 2pm and 7 pm and Tiler Peck, from the New York City Ballet is the Sugar Plum Fairy. I [Mya] will be dancing on the 22nd as Snow Queen!